Markilux 930
Awning with a tendency towards perfection
Perfect for balconies, the Markilux 930 awning is unique in how differently it moves compared to other models. Its extended position could be at any angle of a pitch up to 80 degrees, which allows for almost vertical shading. As it retracts , the awning pivots into horizontal position and disappears under the cover of the eave or balcony ceiling, requiring no additional protection from weather elements.  It's also very discreet with only 122mm thick awning frame.
In addition to optional valance that will give the awning individual decorative finish, there is a huge number of colours and patterns to choose for the fabric.
Features
Max Width: 5m (16'5″)
Max Projection: 3m (9'10")
Operation: Manual
    Optional: Servo Manual, Hard-wired Motor, Radio-Controlled Motor
Folding Arm: Twin Steel-Link Chains
Options: Valance
Best For: Balconies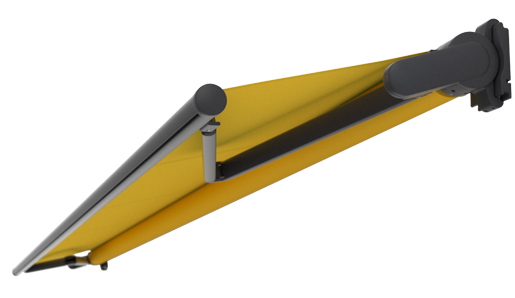 Sizes stated are Max Width x Projection.
*Other options available - see the awning model page for more details

Book a Free Survey
If you are interested in any of our shading solutions, please get in touch.
Other shading solutions you might be interested in