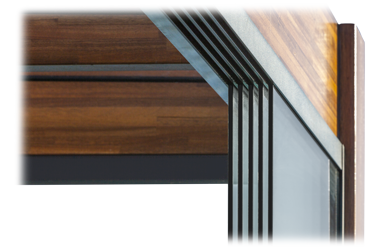 Deponti Fiano Glass Sliding Doors
Gliding Doors with an unmatched elegance
Deponti's Fiano Glass Doors are more than just a gateway to the outdoors – they are a statement piece that exudes sophistication and contemporary style. The smooth sliding mechanism effortlessly glides on precision-engineered tracks, providing seamless access and creating a harmonious transition between your indoor and outdoor spaces. With their expansive glass panels, the Deponti Fiano glass sliding doors flood your home with natural light, creating a bright and inviting atmosphere. The transparent allure of glass captures breathtaking views, allowing you to enjoy the beauty of your surroundings from the comfort of your own home, no matter the weather.
These stunning Glass Doors can be installed under existing outdoor structures, or can be ordered alongside our range of beautiful Verandas. So why not explore our range of Deponti Verandas so you can get the full garden room package. Designed to be fit together, the Fiano Glass Sliding Doors work wonderfully with any of the Deponti Verandas, as well as their associated accessory products.
Features
Colour: RAL9016, RAL 7024, RAL9001, RAL9005
Panel Width: 640mm | 820mm | 980mm | 1040mm
Installation Height: 2000mm | 2100mm | 2150mm | 2200mm | 2250mm | 2300mm | 2400mm | 2500mm
Number of Tracks: 2 | 3 | 4 | 5 | 6
Glass Thickness: 10mm
Application: Can be installed under existing structures
Options: Followers, Handles, Steel Frame, Weather Brushes
Sizes stated are Max Width x Projection.
*Other options available - see the awning model page for more details

Book a Free Survey
If you are interested in any of our shading solutions, please get in touch.
Other shading solutions you might be interested in