Deponti Veranda Accessories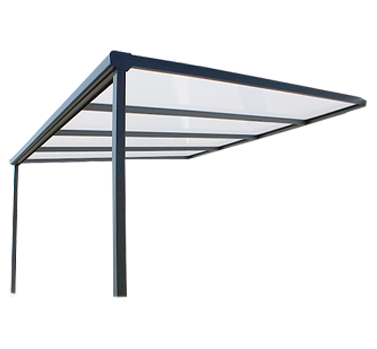 Polycarbonate Options
Get just the right amount of sun
All of our Deponti Verandas that have polycarbonate roofing give you ultimate customisation options, and as a part of that initiative we offer a varied range of polycarbonate opacity options. If you're looking for an experience with maximum sun, we provide ultra clear sheets with wide channels, which provides more transparency and impressively high light permeability.
But for those of you looking for a cooler, more semi-transparent option, we have you covered, as we also provide an opaque option for the polycarbonate which protects you from not just the weather, but also the suns harsher UV rays. Want the best of both worlds? Not a problem, we also offer Deponti's Solar Control paneling. They provide an excellent fusion between temperature control and light diffusion. That means you get minimal infrared waves from the visible light shining through, so you can get a tan, while having it made in the shade! The Deponti Verdeca works beautifully with Deponti's Glass Sliding Doors, the wonderful Fiano range.
Glass Door Accessories
Enjoy the outdoors with indoor comfort
Deponti's Fiano Glass Doors are elegant on their own, but we offer some accessories to go with them that push their luxury even further. For example, brushed aluminium handles for your glass doors, which let you open them easier and avoid smudges or fingerprints on your crystal clear doors.
We also provide followers for the tracks of your glass door, which allow them to glide effortlessly, meaning you can open or close them at a touch. Want your glass doors to be windproof? Why not get our weather brush accessories, which form a soft seal between your panels, stifling any heavy winds which might interrupt your relaxation.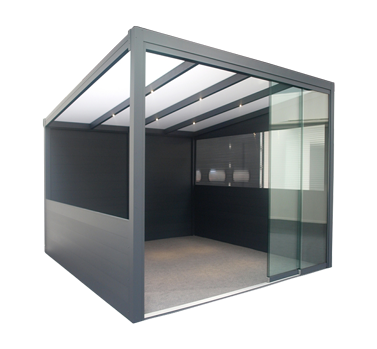 Side Walls & Gables
Better protection, privacy & pleasure
Deponti's collection of modern side wall and gable accessories elevate your outdoor space with sleek and stylish additions that seamlessly blend form and function. Whether you're looking to enhance your veranda's aesthetic appeal or create a cozy retreat, our side walls and gables are the perfect solution. These architectural features add a distinct visual appeal, giving your veranda a modern and sophisticated look.
Our side walls offer both privacy and protection, creating a tranquil sanctuary within your veranda, shielding you from prying eyes and inclement weather. Deponti's side walls provide the perfect balance between openness and seclusion, allowing you to enjoy your veranda in peace and comfort.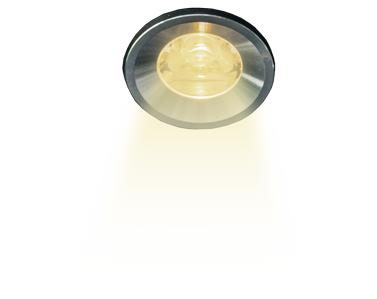 LED Lighting
Enjoy your veranda beyond the daylight
Illuminate your veranda with mesmerizing brilliance using our advanced LED lighting solutions. With energy-efficient LED technology, these lighting fixtures provide a warm and inviting ambiance, perfect for intimate gatherings or tranquil evenings alone. Experience the magic of well-lit surroundings as our LED lights effortlessly create a serene atmosphere, setting the mood for relaxation and enjoyment. Create unforgettable memories as you bask in the enchanting glow of our LED lighting and elevate your veranda to new heights of comfort and convenience, and enjoy seamless year-round access to your outdoor haven.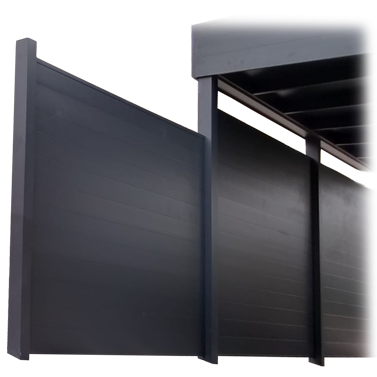 Grillo Fencing & Concrete Foundation Blocks
Stability & sanctuary
Create a solid foundation for your outdoor haven and fortify your veranda with our premium concrete foundation blocks and Grillo fencing accessories. Designed with utmost stability and security in mind, these essential components ensure a safe and durable environment for you and your loved ones. Our concrete foundation blocks stand tall as the epitome of stability, offering unwavering support to your veranda structure.
Designed to withstand harsh weather conditions and other environmental factors, they provide a solid base, ensuring the structural integrity of your veranda. Safeguard your outdoor space and enhance privacy with our innovative range of fencing solutions. Engineered with a focus on strength and style, these accessories seamlessly integrate with your veranda, providing an impenetrable barrier against unwanted weather and intrusions.
Sizes stated are Max Width x Projection.
*Other options available - see the awning model page for more details

Book a Free Survey
If you are interested in any of our shading solutions, please get in touch.
Other shading solutions you might be interested in