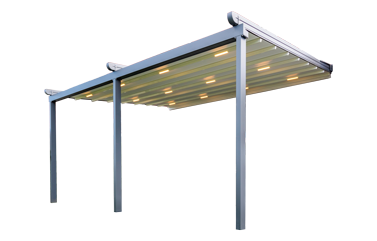 Deponti Verdeca Folding Roof Veranda
Perfect control over your outdoor haven
This versatile and sturdy structure is designed to elevate your patio experience with its innovative folding roof canvas and an array of customizable accessory options. Whether you're seeking a cosy retreat or a stylish relaxation area, our Folding Roof Veranda is built to exceed your expectations. The folding roof fabric allow you to effortlessly adapt to changing weather conditions, providing shade on sunny days and shelter from the rain. Experience the joy of outdoor living without compromise, as you soak up the sun or relax in the gentle pitter-patter of raindrops overhead.
Designed for durability, our Folding Roof Veranda boasts a sturdy construction that can withstand various elements and ensure long-lasting performance. With premium materials and expert craftsmanship, this veranda is built to withstand the test of time, making it a wise investment for years of enjoyment. But that's not all, because Deponti also provide a popular option, for those who want the full luxury of an indoor/outdoor fusion, with their Fiano Glass Sliding Doors, you can make your Folding Roof Veranda into a full on open roof glass room! Looking for a veranda with glass or polycarbonate roofing instead? We've got you covered. Check out our full range of verandas.
Features
Width: 4000mm | 5000mm | 6000mm
Depth: 3000mm | 3500mm | 4000mm
Colour: RAL9001 Cream White, RAL 7024 Texturized Graphite Grey
Control: With the supplied SOMFY remote control, the Verdeca canvas and optional LED lightning can be controlled.
Posts: Square
Roofing: Sun & Water Resistant Fabric
Options: Built-in LED lighting in the canvas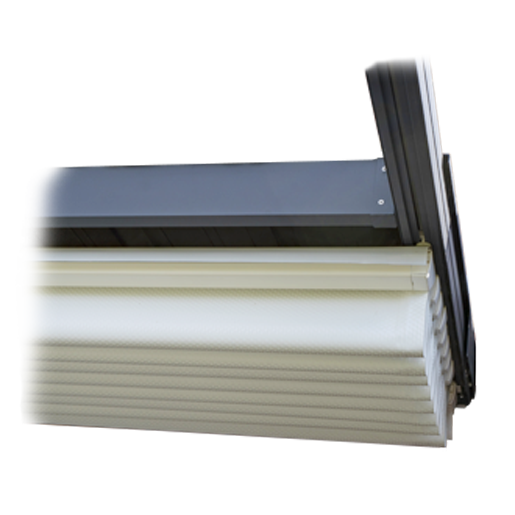 Sizes stated are Max Width x Projection.
*Other options available - see the awning model page for more details

Book a Free Survey
If you are interested in any of our shading solutions, please get in touch.
Other shading solutions you might be interested in