Markilux 990
Small & impressive awning
The markilux 990 is a full cassette awning that can spread 5m wide with a 3 m projection.  Only a 125mm high cassette is packed with sophisticated technologies. Compact construction and an impressive angle of pitch of 70 degrees makes this awning a top choice for balconies or smaller patios. Comes with twin round steel link chain folding arms with a U shaped front profile which beautifully integrates with the cassette when retracted. The arms can be equipped with bionic tendon technology instead of the chain link if required.
As an option, the end cap inserts can be supplied in polished chrome and a valance can be added. We have a huge range of canvas colours and patterns to choose from. The markilux 990 comes with manual operation as standard but this can be upgraded to servo-assisted manual, hard wired or radio-controlled motor.
Features
Max Width: 5m (16'5')'
Max Projection: 3m (9'10'')
Operation: Manual
    Optional: Servo Manual, Hard-wired Motor, Radio-Controlled Motor
Folding Arm: Twin Steel-Link Chains
    Optional: Bionic Tendon
Options: Polished Chrome End Cap Inserts, Valance
Best For: Smaller Patios and Balconies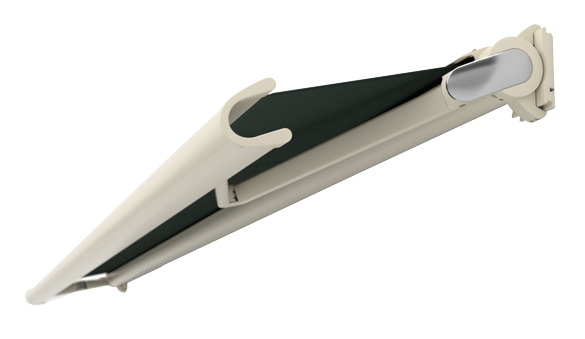 Sizes stated are Max Width x Projection.
*Other options available - see the awning model page for more details

Book a Free Survey
If you are interested in any of our shading solutions, please get in touch.
Other shading solutions you might be interested in