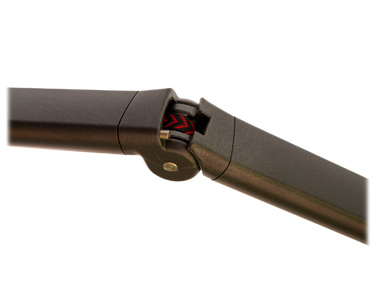 Arm Technology
Arm technology for the ideal performace
A number of options are available when it comes to the different types of arms available for awnings from Markilux. Below we'll detail how each arm technology has a different set of features allowing you to pick a type of arm which best suits your awning & property type.
Twin Round Steel-link chains
These are the standard types of arms which are supplied with Markilux awnings. Having been on the market for decades, these arms are proven through years of operation in all types of weather. The twin round steel-links are protected by the arm covering itself from any weathering whilst also offering a more discreet profile & look.
Bionic Tendon 
The bionic tendon from Markilux has been developed from high-tech fibers to create optimum power transference as well as friction free, noiseless performance. Having achieved more than 50,000 arm flexions in independent tests this arm is ideal for those who do not want to cause any noise pollution to the surround environment.
Stretch
Ideal for narrow patios or balconies due to two crossover arms allowing awnings to be extended further even within a narrow width. This allows you not to miss out on awning technology from Markilux, even if your property does not allow standard options.
Book a Free Survey
If you are interested in any of our shading solutions, please get in touch.
Discover the Range of Markilux Awnings & Other Shading Solutions