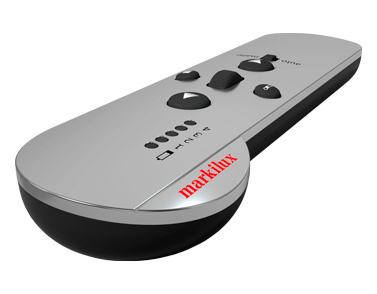 Motor Drives & Remote Controls
A variety of ways to operate your awning
Markilux allows automation through motor drives which can be controlled through an outdoor power connection connected to a switch on the inside. Markilux allows even greater operation through a radio controlled remote option.
Manual Operation
Manual operation is possible for those who do not find the need to automate their awnings. Markilux supplies stainless steel winding handles which is supplied for awnings with a gear box. Low noise bearings & ergonomically shaped grips allow efficiency when operate the awning manually.
Servo Assisted Manual
The Servo Assisted Manual gives greater choice when picking manual options when it comes to how you choose to operate your awning. This works by a mechanism which is housed inside the roller as a spring coil. As the awning is wound out with the sprung assisted arms the coil winds in the opposite direction which creates tension, therefore when winding the awning in it uncoils making it easier to retract the awning via the crank handle.
Hard Wired Motor
For Markilux hard wired motors it is required to have a power connection outside. These motors can be controlled via a switch from the inside allowing you to extend or retract your awning through a flip of a switch, saving both time & effort when having to do it manually.
Silentec Motor
The Silentec is a special motor with acoustic insulation. Noise which is produced through this motor is a lot less when compared to standard Markilux hard wired motors or even a radio controlled motor. This option is only available for the MX-1/MX-1 Compact, 6000, 5010 & 3300 awning models.
Radio Controlled Motor
These motors allow you to control your awning through a touch of a button. The remote controls for this are ergonomically shaped allowing greater comfort. This will also save the hassle of having to operate the awning both manually and even through a hard motor drive as this will still require more effort than simply pressing a button within the comfort & shade of your awning.
Somfy Connexoon
This allows effortless operation through a smartphone or tablet, even when you're not present on your property. The Somfy Connexoon allows you to control the atmosphere in & around your awning such as lighting effects, music & when operating the awning itself.
This also includes a sun sensor & wind status function along with a snapshot feature allowing you to record atmosphere settings in a photo.
Book a Free Survey
If you are interested in any of our shading solutions, please get in touch.
Discover the Range of Markilux Awnings & Other Shading Solutions