Erhardt Glass Rooms and Verandas
Fantastic glass extensions for your garden or patio, our range of Erhardt glass verandas and glass rooms gives you the best of both the indoors and outdoors. Whether you're looking for a glorious garden sun room or a stunning glass roof extension, you'll love our range of outdoor glass solutions.
We'll build you the glass extension you've always dreamed of, so that you can enjoy your garden or patio a whole new way.
Explore the range of Glass Home Structures, and their Premium Features or call 0800 716 569 to book a Free Survey.
We'll build a Glass Outdoor Area for any garden or commercial setting that will impress your family & guests alike.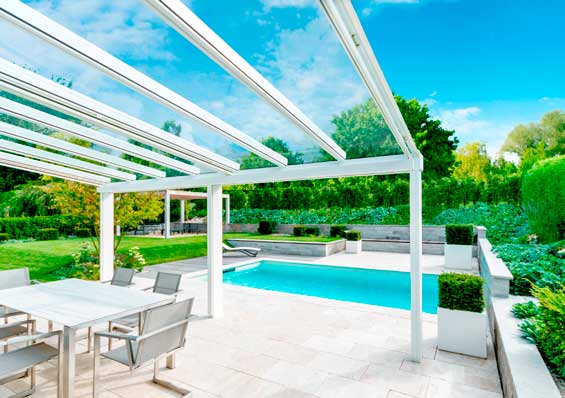 Length: 2.0m – 14.0m (25cm increments)
Max Projection: 1.0m-6.0m (25cm increments)
Support Spacing: Up to 7m without a 3rd support
Profile Heights: 100mm – 150mm
Options: LED Lighting/ Heating Accessories/ Cubic Rafters/ Vertical & Horizontal Awnings/ Integrated Gutters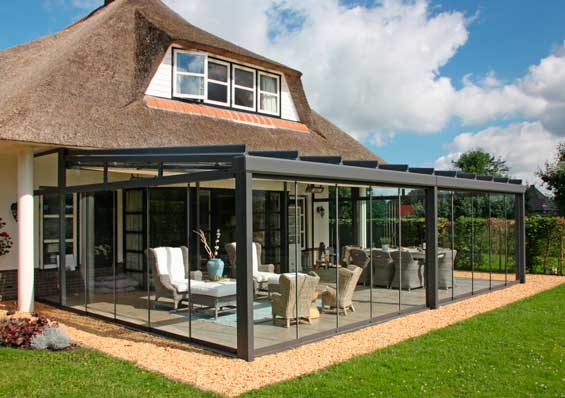 See Verandas for core statistics
Glazing Thickness: 8mm – 10mm
Mitred Profiles with bonded corner connectors
Glass Doors Available in 2,3,4 or 5 Railed Sliding Designs
Options: LED Lighting/ Heating Accessories/ Glass Sliding Door/ Ventilation/ Vertical & Horizontal Awnings/ Integrated Gutters

Pergolas & Permanent Outdoor Shade Structures
Max Width: 6m (19'8″) or *5m (16'5″)
Max Projection: 4.5m (14'9″) or *6m (19'8″0
System: Tracfix cover guidance with lateral guide tracks on slim posts
Operation: Hard Wired Motor Optional: Silentec Motor, Radio-Controlled Motor
Options: LED-line/LED Sports, Shadeplus/Drop Valence, Wind Protection & Extra Privacy. Round or Square Posts, Telescopic Posts, Ballast Boxes, Coupled System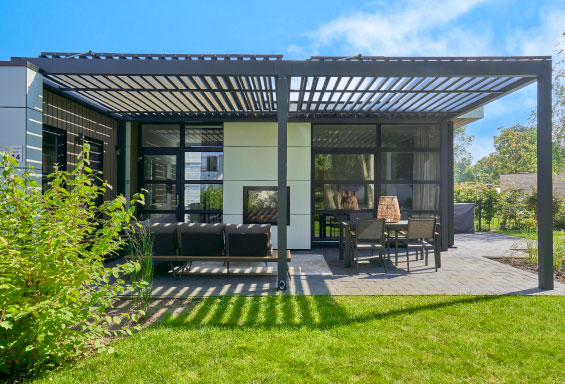 Widths: 3000mm or 3500mm
Depths: 3011, 3539, 4067 or 4947mm
System: Louvered Roof Pergola – panels rotation 120°
Operation: Manual or Automated
Features: Integrated Drainage, Aluminium Construction
Options: LED Line, IR Heaters

Book a Free Survey
If you are interested in any of our shading solutions, please get in touch.
Other shading solutions you might be interested in