Choose only the best between you and the sun
Designer Awnings from Markilux
Great range of awnings and shading systems to make your outdoor life more enjoyable
Access Awnings are one of the South East's specialists in residential and commercial awning solutions. Providing professional installations of shading systems, patio awnings and retractable awnings from top German manufacturer, Markilux. Our awnings will allow you to enjoy the outside all year – even in diverse weather.
Our extensive range of German made Markilux awnings provide new open space for you to enjoy in most seasons as well as adding value to your property. Let us inspire you to get the most out of your home. Explore our range of retractable patio awnings or find out how and why would you benefit from having an awning at your property.
Great Range of Awnings & Shading Systems
Selection of 250+ Fabric Patterns & Colours
Manual, Semi or Fully  Automatic
Accessories, options and extras
Designed & Engineered in Germany
Multi-Award winning designer awnings


FREE GIFT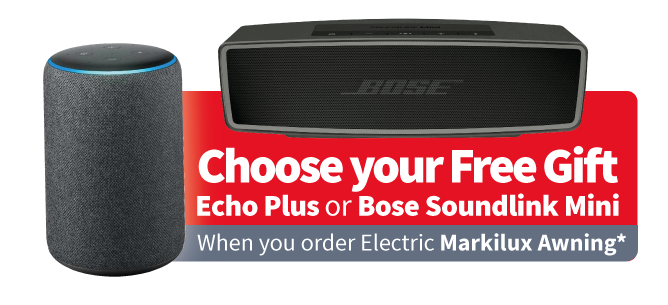 Order your new electric Markilux Awning and enjoy the coming sunny days with both, your new awning and one of these amazing portable speaker with built-in smart home hub*.
Both will be a perfect companion for your outdoor activities, BBQ's, family and friends' visits under your brand new Markilux Awning.
For more information about Markilux Awnings or to book a  Free Survey, please call 0800 716 569.
(*Free Gift Offer valid on electric/motorised Markilux Awnings only. Excludes manual awnings.)
Sizes stated are Max Width x Projection.
*Other options available - see the awning model page for more details

Discover the Range of Markilux Awnings & Other Shading Solutions
Our Recent Awning Installations