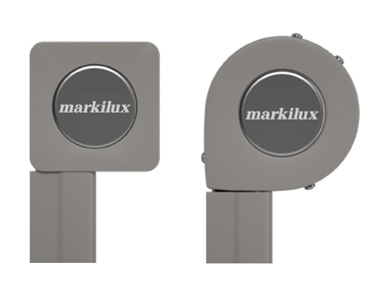 Markilux 720/820
Verticle blinds for ideal protection
This awning can be mounted directly on the wall & features a cassette profile of extruded aluminium which is only 95mm in height. This awning is both discreet & contemporary in its cassette design which does not obstruct on the elements present on the property.
The blind cover is guided along sturdy aluminium guide rails & these awnings can be coupled along to cover larger widths.
The 720 features a square cassette whilst the 820 features a round cassette allowing you to pick a cassette profile which better suits your design needs.
Features
Max Dimensions: 3m / 9'10" x 3.5m / 11'6″
Cover Guidance: Guide Tracks
Cover Tension: Gravity Fed
Wind Resistance: 2, Equivalent of Beaufort Force 5, Wind Speed 17-23 mph
Sizes stated are Max Width x Height/Projection.
*Other options available - see the screen/blind model page for more details

Book a Free Survey
If you are interested in any of our shading solutions, please get in touch.
Other shading solutions you might be interested in