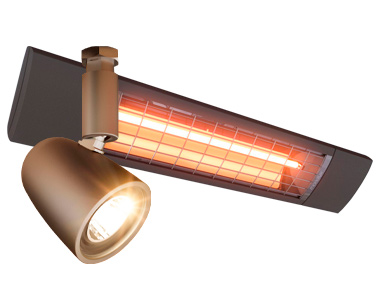 Lighting & Heating
Bring the indoors, outside.
A variety of lighting & heating options are available in combination with your awning allowing you to bring the indoors, outside. These features will let you enjoy your patio even during the cold & dark winter months meaning the use of your awning will not be restricted to just the summer months.
LED Spotlights in the canopy
These spotlights will add on to the already sleek & contemporary design of the awning canopy of the Markilux MX-1 by further enhancing it's profile.
LED Line in the front profile/Ambient Lighting
Stylish & contemporary whilst also being energy efficient the LED line on the front profile will enhance the profile of your entire awning, especially at night.
The ambient lighting is available in five different colours. This can be dimmed through a remote control allowing you to enjoy the outdoors at night whilst not causing any light pollution to intrude on to the surround area.
LED Spotline
The LED Spotline includes a lightbar that houses individual spotlights. The Spotline can be fittest almost anywhere to enhance the appeal of your awning & to add functionality. The individual spotlights can be tilted & swivelled for added effect.
Infrared Heater
These heaters offer a comfortable outdoor living experience for any awning owner. These heaters include a soft start function to reduce start up current & cooling fins on the back to prevent excessive heating of the mounting surface. Efficient, energy saving, these can be turned on by a touch of a button.
Markilux Stand Alone Infrared Heater
This stand alone 1400 watt heater is ideal for open spaces & when used under freestanding awnings to provide extra heat. These heaters include safety options such as turning off if the device tilts & an infrared halogen lamp with "no glare" heating tube technology.
Book a Free Survey
If you are interested in any of our shading solutions, please get in touch.
Discover the Range of Markilux Awnings & Other Shading Solutions