Deponti Pinela Louvered Pergola
The perfect fusion of indoor design & outdoor charm
Take full control of the sun and airflow with a brand new Louvred Roof. At the press of a convenient button, you can adjust the shade, ventilation and sunlight under your Louvred Pergola, so you can decide for yourself how you want to enjoy the sunlight.
Throughout summer you have the option to either cool down in the shade or bask in the sun. Alternatively during the colder months, you can rest assured that your Louvred Roof Pergola is totally waterproof, and can protect you no matter the weather conditions, meaning you can enjoy your patio or garden year round! Why not also explore our range of Verandas, or explore Deponti's accessory range such as their exquisite Fiano Glass Sliding Doors, which make an elegant impression on any veranda or louvred pergola.
Features
Width: 3000mm (9'8″) | 3500mm (11'5″)
Depth: 3011mm (9'9″) | 3539mm (11'6″) | 4067mm (13'3″) | 4947mm (16'2″)
Colour: RAL 7024 Graphite Grey
Panels: Panels are adjustable up to 120°
Operation: Manual, with optional automation with the Somfy remote control, with panel adjustment, and optional LED control
Applications: Can be installed both as a wall model and freestanding.
Drainage: Integrated
Options: Automation Louvre, Control, LED Lighting Strip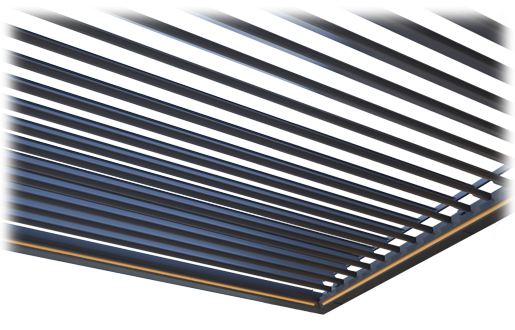 Sizes stated are Max Width x Projection.
*Other options available - see the awning model page for more details

Book a Free Survey
If you are interested in any of our shading solutions, please get in touch.
Other shading solutions you might be interested in