Markilux 3300
Low maintenance, high impact awning
The Markilux 3300's main advantage is that it can visually blend with the architecture of the property. With its smooth front profile, the 3300 awning can completely disappear into a wall or recess. This full cassette awning can provide shade to large areas as up to three of these can be coupled, each covering 7 meter width with projection of 4 metres.
The Markilux 3300 comes with the bionic tendon arm technology and is manually operated as standard. Optionally, the awning can be installed with servo assisted manual operation, hard wired or radio controlled motor, or silentec motor. As with any Markilux awning, the 3300 is available in a range of colours and patterns of the fabric, sun, rain and wind sensors that could fully automate the awning.
Features
Max Width: 7m (23′)
Max Projection: 4m (13'1″)
Operation: Manual
    Optional: Servo Manual, Hard-wired Motor, Silentec Motor, Radio-Controlled Motor
Folding Arm: Bionic Tendon
Options: Valance, Coupled Awning
Best For: Large Patio or Commercial Application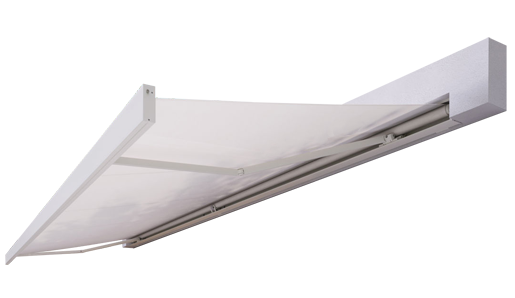 Sizes stated are Max Width x Projection.
*Other options available - see the awning model page for more details

Book a Free Survey
If you are interested in any of our shading solutions, please get in touch.
Other shading solutions you might be interested in