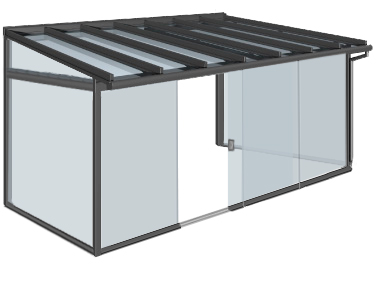 Erhardt Glass Rooms
Luxury Glass Outdoor Rooms
All the beauty of your garden, indoors. Erhardt's range of glass outdoor rooms invite the sun and splendour of your garden in. Erhardt's near invisible glass panes invite in the sun, and allow you to enjoy your patio, no matter the weather. Enjoy the perfect fusion of indoors and outdoors, with a completely unobstructed view.
Erhardt glass rooms have many customisation options for your comfort and convenience. This includes on roof and vertical awnings, LED lighting packs, integrated infrared heating, and much more. Use these dynamic options to create your ideal glass room garden office, home gym or outdoor living room.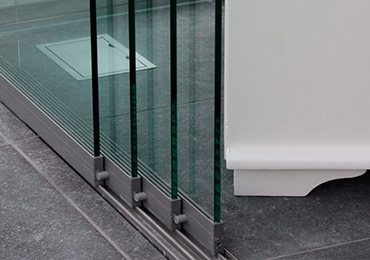 Smart Rail Door Options
Erhardt door rails are available in options varying from 2 to 5 railed systems and can be installed either on the surface or flush to the ground. Protective coverings can be placed from the inside and outside to the ground track. This can be done without impairing the functionality of the sliding doors. This allows your glass room's transition to the outside to be perfectly ground level depending on your circumstances.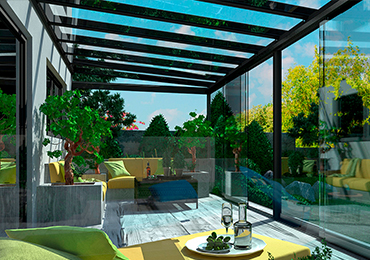 Idyllic Garden Room Extensions
Transform your existing Erhardt glass veranda into a full outdoor glass room with Erhardt's modular fixed elements. From all glass sliding doors to a variety of configurable glass and aluminium panels, to angled elements. Upgrading to a glass room also opens the door for luxury upgrades such as vertical awnings, enclosed heating, and adjustable ventilation.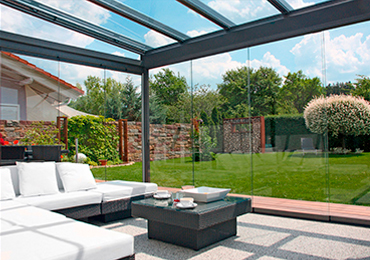 Protection From All Angles
Glass rooms supply a full seal from the weather, with a seal that blends harmoniously with any property. Erhardt's 36mm leaf cover allows the glass to repel wind driven rain and guarantees lifelong ventilation and impermeability. Erhardt does all this while maintaining maximum transparency.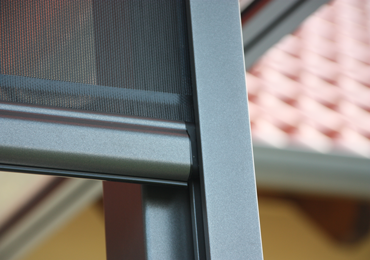 Premium Additions
Keep your glass room climate perfect year round, with available heating and shading options. Horizontal and vertical awnings are available, so you can get the right amount of sun. Integrated infrared heating options let you enjoy your garden view on cold nights and in the Winter months. LED lighting packs are also available to keep your glass room inviting any hour of the day or night.
Sizes stated are Max Width x Projection.
*Other options available - see the awning model page for more details

Book a Free Survey
If you are interested in any of our shading solutions, please get in touch.
Other shading solutions you might be interested in