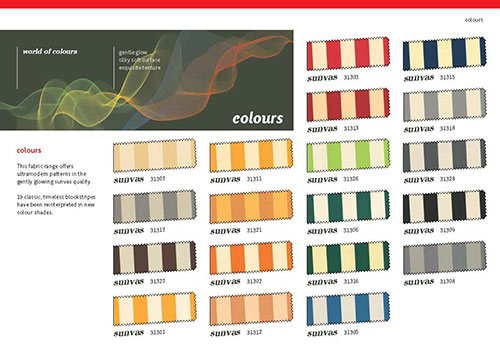 Quality, Style and Design
Markilux awning covers – are highly rated because of their quality and appearance. With the purchase of a markilux awning cover you have chosen a high-class, quality product. All fabrics are produced on state-of-theart weaving looms. This guarantees near perfection in the manufacturing process. Meticulous checks also ensure that we only ever supply functionally flawless covers.
With every product meeting strict technical requirements we ensure that you are investing a  product that is designed and built to last. Protective awning covers are technical fabrics that are intended to be decorative but functional. Awning covers are high performance products that meet strict technical requirements.
Acrylic
Awning fabrics produced from spun-dyed acrylic yarn are the most widely processed fabrics in Europe. Their material features and special surface finishes, which protect against dirt and staining, have been thoroughly tried and tested.
Sunsilk SNC
Sunsilk SNC (sunsilk nano clean, 100% PES) combines silky transparency and exceptional colour brilliance with optimum sun protection. The highest possible degree of light-fastness also ensures that the fabric's intense luminosity remains intact for many years. The fine fabric and ensuing low winding circumference on the roller reduce creasing. The nano clean finish enables the cover to self-clean during rainy weather (water is only able to run freely from the cover when it is set at a minimum pitch of 14 degrees).
Signature sunsilk SNC
This new range has been inspired by the natural and architectural environment. They have been separated into 5 colour families: Life, Architecture, Nature, Elements and Structure.
If you require a colour chart please contact us and we will mail one to you, alternatively, visit one of our showrooms to see a fabric sample book.
Fabric Care Advise
Caring properly for your blind or awning cover so that you may have long and pleasurable use from your markilux awning cover here are a few tips regarding its care:
Dust can best be removed when dry by means of a soft brush.
Leaves or similar debris should be removed immediately.
Small stains should be removed using lukewarm water and a commercially accepted, preferably liquid, detergent suitable for delicate fabrics (5% soap solution, water temperature max. 30°C). Rinse thoroughly with water.