Markilux Awnings

Markilux are one of the largest German brand names in awnings and for more than a quarter of a century they have been making sure that life on the balcony and the patio is made even more enjoyable. Using technical innovation, engineering and highly developed knowledge of textiles Markilux create awnings that not only look stunning but are also cutting edge, reliable and durable.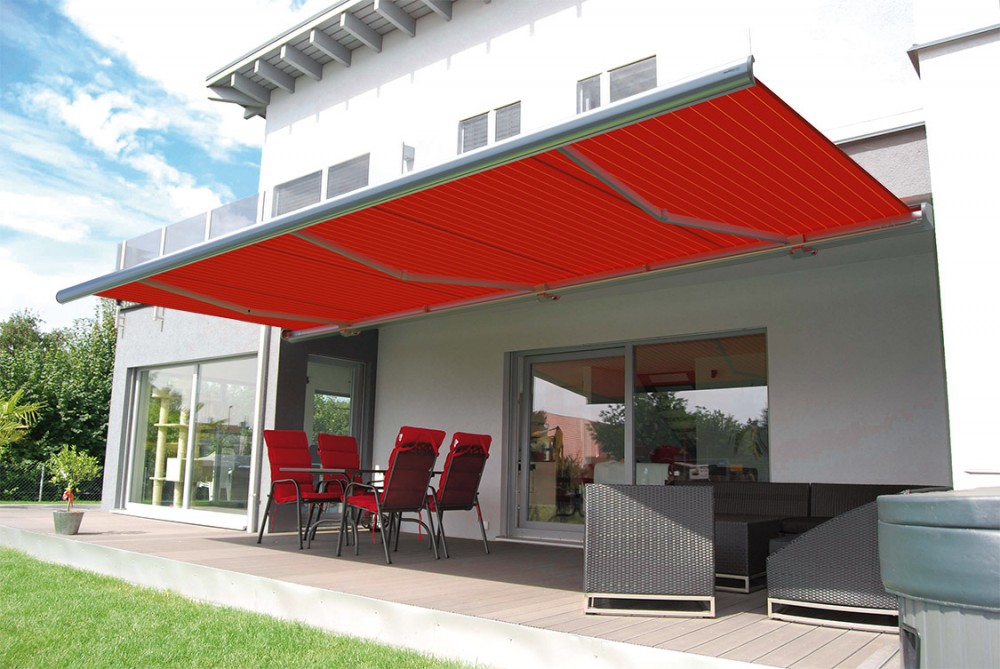 We all have different priorities and requirements, that's why with a Markilux awning you'll be sure to find the perfect shading solution for you. We offer awnings for any budget or style and offer a wide range of accessories to make your awning tailored to your specific needs and requirements.
A Markilux awning creates new open space while allowing you to direct the sunlight or fade out the rain, creating versatility through the seasons. Using the highest quality materials to create an extremely weather resistant, robust, versatile awnings. Those who own a markilux will always enjoy life outside in totally new dimensions.
Markilux 1300 Basic
It is robust, reliable, and fulfills all expectations: the markilux 1300 basic. Strong, distinctively shaped arms and a round steel-link-chain ensure a taut cover. The front profile makes water run off to the sides. And the pitch adjustment makes it easy to define how much sun would be ideal in which angle. If that is not enough, additional shadeplus finally provides the right amount of shade and privacy.
Markilux 930 swing
The markilux 930 swing adapts ideally to all conditions. It is small, delicate and elegant – and especially suited for installation under overhanging roofs, where additional protection of cover and mechanics is not required. An intelligent pivoting mechanism lends it a particularly compact and flat appearance when closed. The windlock mechanism prevents the awning from flipping up in windy conditions.
Create the perfect climate in all weather conditions, with minimum fuss. The classic conservatory awning by markilux regulates the light influx that brightens your winter and cools your summer.
Markilux 889
The markilux 889 transforms any patio into a perfectly tempered outdoor-favourite.  No matter the weather with quick retraction and extension you are able to create your desired atmosphere. Perfect for large glass areas.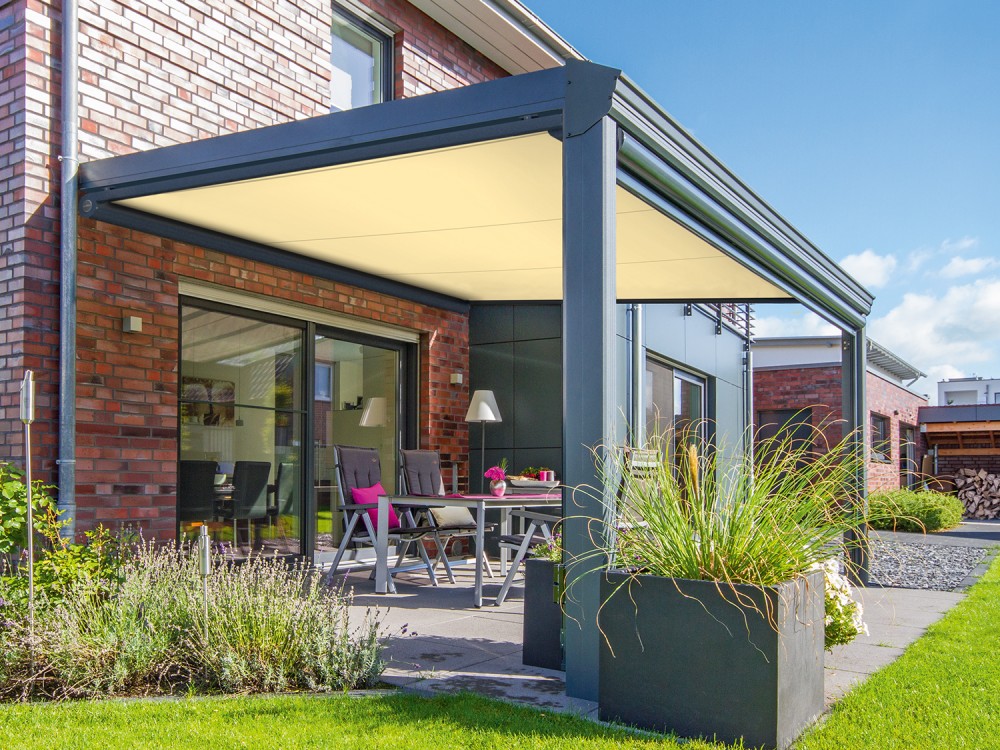 Large-scale shade for both private and professional purpose, the markilux pergola is an awning system with additional supporting posts – so that the building's façade will not get overused. Markilux syncra is a free-standing awning system that can be placed independently of any architectural connection, only a foundation is required. See commercial awnings for more details on our range of Markilux shading systems for open areas.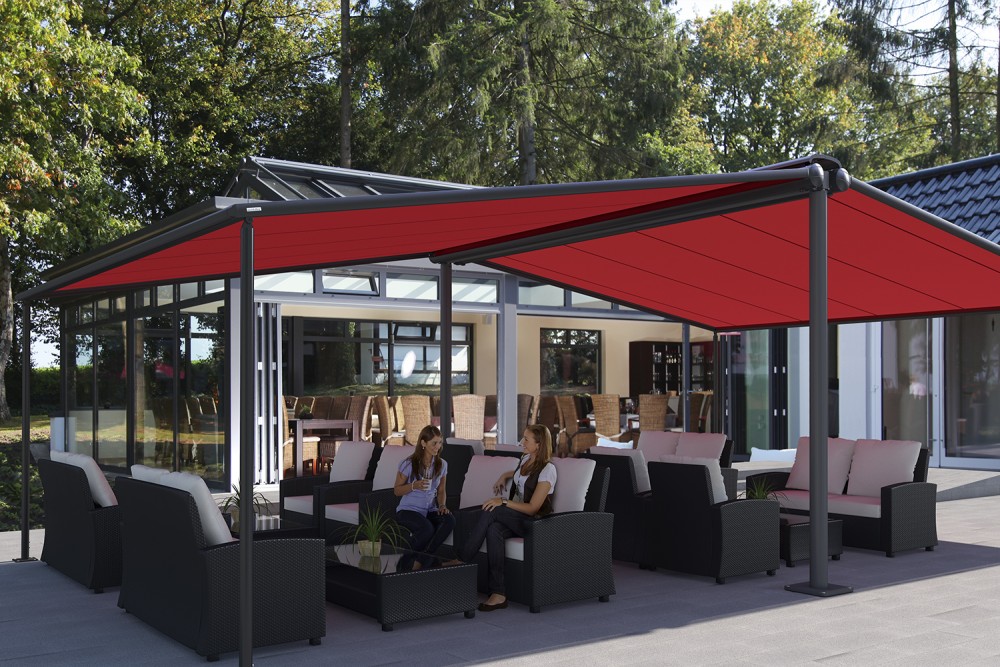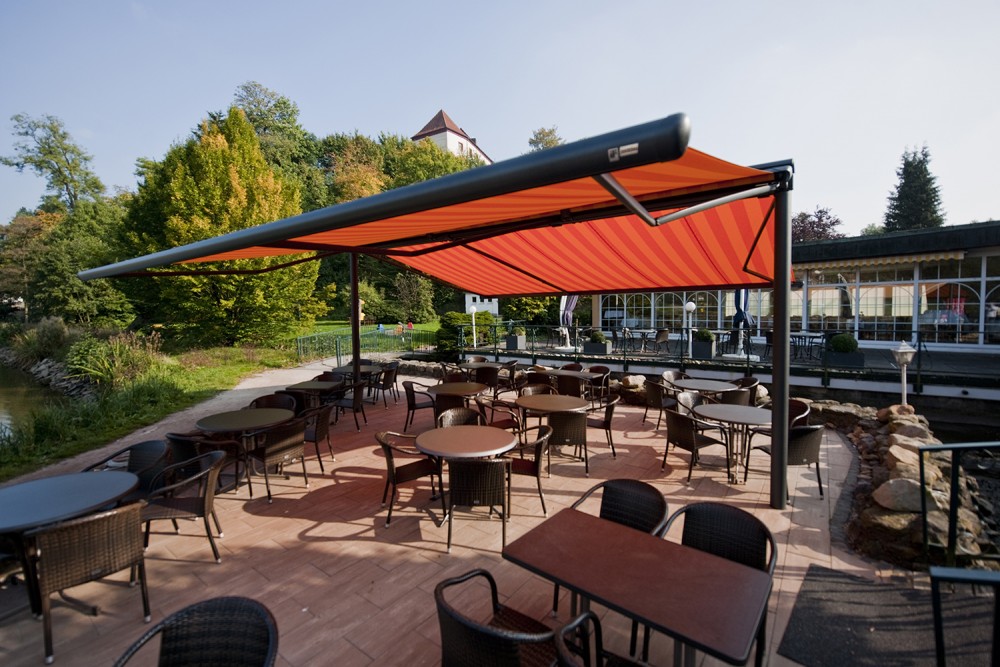 Help control the temperature and light in any room with a Markilux window awning. Markilux window awnings temper, cool, keep heat and protect, they make any climate perfect – with a minimum of effort.  Markilux's reliable, sophisticated technology and high-quality materials and craftsmanship guarantees a problem-free installation and a long-lasting functional shading solution.