Conservatory Awnings
Transform any patio into an outdoor-favourite, by getting the most out of every season with a conservatory awning. Enjoying sunlight at all times of the year is one of the best features that make special rooms into favourite places. The classic conservatory, the glazed veranda, loggia or pergola: Conservatory awnings help to present bright light in winter and a pleasant light in summer.
The intelligent climate control – for the home and for the environment: window and winter garden awnings temper, cool, keep heat, protect. And they make any climate perfect – with a minimum of effort. Intelligent technology and outstanding aesthetics included.
See below for the conservatory awnings in our range, and to download more information on our conservatory awnings;
Fitted Inside or Out. Your conservatory makes every season pleasant. It's there when it's needed and disappears discreetly into its cassette when you want to enjoy the sun on its own. And the practical brush seal ensures that coarse dirt is removed from your Markilux when it moves in and out.
Unique light, sun and climate conditions the whole year round
The awnings are perfectly suitable for smaller glass area
Create a cover style that's perfect for you
Maximum 400 cm long
Download more information on the Markilux 780/880
More Area, More Atmosphere. This is the Awning that knows almost no limits. Up to three of the large awning "areas" can be coupled together – for generous shade even in professional applications.
Markilux 8000 is the most popular retractable awning for large roof areas. Highly suitable for conservatory applications, they can also be installed in skylight windows and angled glass canopies due to their high quality and adaptable front profile.
Transforms any patio into an outdoor-favourite
Available in all fabrics, we recommend Markilux transolair and Perfotex
Drop is a maximum of 700 cm long.
Electric motor as standard
Download more information on the Markilux 8800
(Previously Markilux 8000)
The Markilux 8500 is the awning for conservatories with uneven, bevelled or indented roofs. Unlike other awnings with guide rails on the edges of the cover, the Markilux 8500 has indented guide rails in the centre allowing for no contact with the edges of the conservatory to allow for creative designs.
The Markilux 8500 offers the same advantage as the Markilux 8000. With its indented guide tracks, it makes fitting the awning to conservatories with bevel-shaped roofs and other non-typical shaped roofs achievable with ease.
Support Structure for Large Shade Systems
The system that makes terraces into pleasant shady rooms. Large surface protection from the sun even without glass.
Perfect to create large shady spaces, kindergartens, beer gardens or at home on the terrace.
A practical, safe and solid substructure
Stand alone on solid supports or is fastened on the wall.
The guide rails can overhang the outermost bracket by up to 1m giving more protection from the sun and ensuring your conservatory is fully shaded.
Download more information on the Markilux 8500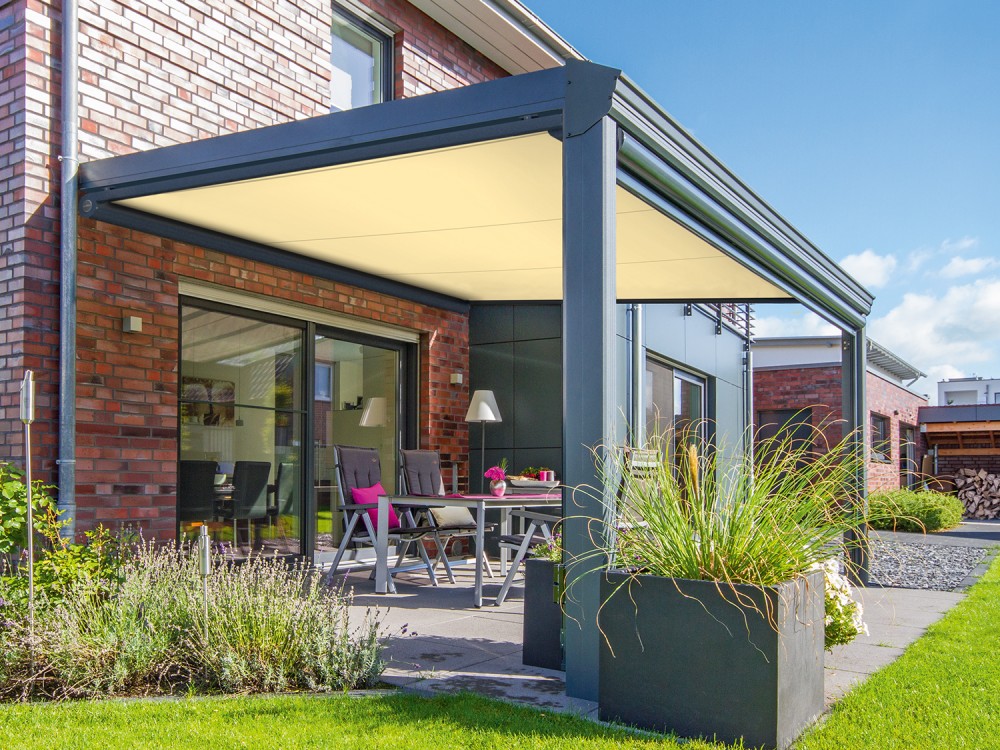 Horizontal and highly functional – the under-glass awning for optimum shading of large areas – optionally with tracfix system
The markilux 889 transforms any patio into a perfectly tempered outdoor-favourite. It is quickly extendable or retractable, according to the weather – and perfectly fit for large glass areas: the vario-tensioning-system guarantees perfect cover tautness when the awning is fully extended.
The compact, rounded profiles make it discreet and unobtrusive
Awning completely pre-assembled and tested in the factory
beautifully crafted, teardrop-shaped aluminium cassette only 126 mm in height
As an option, tracfix ensures safe lateral fabric guidance and a closed appearance.
Download more information on the Markilux 8500
An airy atmosphere with protection from light and heat. The roof festoon provides a perfectly light but cosy atmosphere, allowing you to direct the sunlight as needed, running below the glass surface on tensioned stainless steel supporting wires.
The roof festoon a simple alternative that is easy to live with. All fittings are carried out inside and thus create a very special atmosphere above your head. Cool in summer as well insulating in winter.
Practical support wires provide a secure fastening and the Festoon's unmistakeable appearance.
Made of Trevira CS, a light fast, antistatic, air permeable cover – can be washed too!
Maximum size of 23m², with a maximum width of 500 cm or a maximum projection of 610 cm
Available with an option of a cord pulley system or motor (at an additional cost).
Download more information on the Markilux Roof Festoon